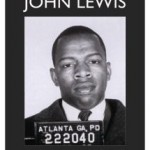 The campaign to re-elect  Congressman John Robert Lewis has opened an on line store with a handful of items that are thought provoking and a little cheeky at the same time. Not an easy thing to do when you think how grim those jails and prisons were in the 1960's for African Americans.
If you've ever wanted a tiny piece of history, or to show your support of the Congressman, well here's your chance.
While the news is full of "flip-Floppers" and "etch a sketchy" politicians, Congressman Lewis is by far one of the most consistent champions for progressive values. His deep rooted belief in non violence and building a "Beloved Community" in the midst of cynicism and political posturing is deeply reassuring to me.
I bought a poster, but I earned my t-shirts.
If you enjoyed this article, please consider sharing it!