Rep. John Lewis + Stephen Colbert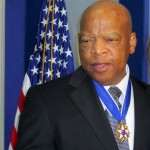 Monday night! Congressman John Lewis will be on the Colbert Report. They will be discussing the Congressman's new book, "Across the Bridge: Life Lessons and A Vision for Change", but with Stephen Colbert, anything could happen. They could go out for hot dogs, discuss Super Pacs or get arrested.
Join the hilarity on Comedy Central at 11:30 pm tonight, Monday, June 4th.  Early to bed early to rise?
UPDATED: Catch it online here.
Hopefully the Congressman will be doing a book signing in Atlanta soon. I'll keep you posted on that. Till then, please purchase your books at local independent book stores. The folks at BfD have a lot of love for our friends at A Cappella.
If you enjoyed this article, please consider sharing it!