This Saturday Join the LBGT Caucus…get a button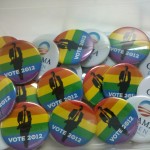 You are invited to the Democratic Party LBGT Caucus* meeting. We will be planning, organizing and coordinating all of the activities this fall to re-elect the President and GA Democrats.
Where: Obama HQ 171 Auburn Ave Atlanta GA
When: Saturday August 24th
Time: 10:00 am -11:30 am
*the LBGT Caucus is made up of folks from various political, social and activist organizations. Allies welcome!
If you enjoyed this article, please consider sharing it!