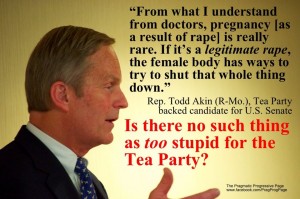 Rape is a very serious issue.  It is not one to take lightly, nor one to discuss in any public or private setting without fully comprehending basic facts about it.  It is a word that, just said alone, evokes painful and horrible imagery- for good reason.
But Rep. Todd Akin, the Republican nominee for Senate in Missouri, doesn't understand that.  He doesn't even pretend to understand that.  Instead, that idiot opened his mouth, and just vomited a series of words that make sense in absolutely no context. Now let me be clear– Akin will unquestionably attempt to walk back these remarks, likely after he speaks with any human being that possesses the ability of cognitive thought.  But there's really no walking this one back.
Just so there is no ambiguity, Todd Akin has a history of this sort of behavior.  Sadly, to me, this sort of pattern not only demonstrates that Akin meant what he said today, but furthermore that he has some serious impairment to understand basic facts about rape and other sexual activity.  It's degrading, it's disgusting, and this man isn't qualified to be a United States Senator, much less a dog catcher.  Hell, to me, this isn't even about his political affiliation, it's about his utter stupidity.  This is beyond ignorance, dammit.
We have all had rape touch our lives.  In college, I spent a Sunday morning in the ER with a friend of mine who was raped.  This isn't some sort of joke to me, just as it is not to the vast majority of the human population.  But to Todd Akin, it's either a joke, or just something that he doesn't want to understand, but is perfectly content legislating.
Sad.
==Update==
As I predicted, Akin's campaign quickly attempted to backtrack.  In the spirit of good faith, I will reprint the statement below with only minimal editorial comment, so that together, we can see the amount of bullshit that can be spewn in three short paragraphs.
"As a member of Congress, I believe that working to protect the most vulnerable in our society is one of my most important responsibilities, and that includes protecting both the unborn and victims of sexual assault [because, frankly, those are things you should say in the same breath]. In reviewing my off-the-cuff remarks [because everyone knows that improvised remarks never contain truth in them, they're all just impromptu lies not based on any deeply-held beliefs], it's clear that I misspoke in this interview [are you sure, because I've read crap you've said before] and it does not reflect the deep empathy I hold for the thousands of women who are raped and abused every year [note: I do not question the fact that he has the most basic human emotion of empathy, just that he has any damn idea what "rape" is]. Those who perpetrate these crimes are the lowest of the low in our society and their victims will have no stronger advocate in the Senate to help ensure they have the justice they deserve. [see also: your attempt to re-define rape vis-a-vis Claire McCaskill, a woman]

"I recognize that abortion, and particularly in the case of rape, is a very emotionally charged issue. But I believe deeply in the protection of all life and I do not believe that harming another innocent victim is the right course of action. I also recognize that there are those who, like my opponent, support abortion [God, yes, all of us pro-choice folk just LOVE abortions] and I understand I may not have their support in this election. [you can say that again]

"But I also believe that this election is about a wide range of very important issues, starting with the economy and the type of country we will be leaving our children and grandchildren. We've had 42 straight months of unacceptably high unemployment, trillion-dollar deficits, and Democratic leaders in Washington who are focused on growing government, instead of jobs. That is my primary focus in this campaign and while there are those who want to distract from that, knowing they cannot defend the Democrats' failed economic record of the last four years, that will continue to be my focus in the months ahead." [this entire paragraph brought to you by the word "DEFLECTION"]
If you enjoyed this article, please consider sharing it!