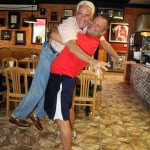 On stupid.
Seriously Mitt, I'm beginning to wonder if Sarah Palin isn't your foreign policy advisor.
Are the old folks from the Dole campaign in charge of voter engagement? "Hair Force One" Really, really?
Which Swiss Banker is your domestic economic advisor? No, Willard, the American "middle class" doesn't make between $200,000-$250,000 a year.
If Romney/Ryan still need these people 50 odd days out, you are in trouble.
And then there is this woman. Batting a 1000 in the cray-cray department.
The picture above came from this post. The "Bear Hug" guy is cool, Charlie Crist meh not so much.
If you enjoyed this article, please consider sharing it!