Democrats Field Candidates in 2 of 3 Special Elections for Jan 8, 2013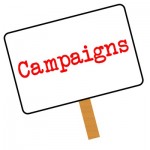 According to the Secretary of State's website as of noon today when qualifying ended, Democrats fielded candidates for:
State Senate District 11 – Lisa Collins
A brief google search indicates Mrs. Collins is a Georgia native and Director of Economic Development (awesome!) in Early County which would make her no stranger to the state capitol.
State House District 21 – Natalie Bergeron
I've heard nothing but good things about this candidate from Cherokee County. Now go get em!
Thank the stars that we only have one Democrat each in the two races above! There's a clown car for the Republicans in Senate 11, let's hope it goes badly for them. No Democratic candidate was fielded in Senate 21. That's a shame as the two GOP candidates are likely to bloodbath each other, and even having a marginal candidate for this race would increase Ms. Bergeron's chances in State House 21.
Best of luck to our two candidates. If you have info on their campaigns, please send it in. We'll be watching these two women closely!
Update: Full Text of Senate Democratic Caucus Press Release below
Lisa Collins Announces Campaign for SD 11  Dems embrace opportunity to improve state economy    
 Blakely, Ga., December 12, 2012 –
 Economic revitalization expert and Early County resident Lisa Collins announced today her candidacy to succeed John Bulloch as the state senator from Senate District 11.
  "The most important issue in the 11th District is to create jobs and put people back to work.  We need to create jobs for the large number of people who want to work but cannot find jobs in this struggling economy.  We have an agricultural based economy and need to maintain our standing in the agricultural community, but we also need to work to create jobs in other areas.  It is hard for any rural community to compete globally, but that is what we need to do.  We need to focus on development of entrepreneurs.  We need to incubate innovative businesses, such as White Oak Pastures and the American International Marksmanship Academy that have created many jobs in the district," Collins said. Collins has acted as Director of Economic Development for the Early County economic revitalization effort, since 2006. She also oversees the Advancing Early Initiative 2012 program, and currently serves on the executive committee of the US Highway 27 Association, the agri-tourism committee for Georgia Department of Agriculture Commissioner Gary Black, the board of the Southwest Georgia Joint Development Authority, the Early County Development Authority, the City of Blakely Development Authority, and is secretary of the Early County Airport Authority. "I am excited about this opportunity to push forward economic growth in Georgia. My focus as a state senator will be to support the sensible policies necessary to stimulate Georgia's rural economy through localized job training initiatives, and robust support of Georgia's public schools," said Collins.
Collins has over 17 years of experience in community and economic development. Before going to Early County, she was the president and chief executive officer of UPtown Columbus, Inc., a non-profit organization in Columbus, Ga., where she facilitated the economic revitalization initiatives throughout the city's central business district, riverfront, and overall uptown area. Prior to UPtown Columbus, Ms. Collins was senior vice president of governmental affairs and transportation of the Greater Columbus Chamber of Commerce, working closely with governmental, business, and community leaders on issues affecting the economic development and quality of life in the region. "Lisa is an old-fashioned, southwest Georgia Democrat who is focused on the future of rural Georgia.  She is a job creator who understands that you have to work hard to grow the economy.  And she knows that we have to change the attitude in Atlanta. Citizens are looking for someone with character, common sense and knowledge to address the needs we have in agriculture and education. I'm glad she's running and I'm proud to support her," said Sen. Jason Carter.
In 2010, Collins earned the designation of Economic Development Finance Professional (EDFP) from the National Development Council (NDC), a national recognition that denotes a mastery of economic development finance skills and deal structuring techniques that translate development opportunities into results for the community.
Collins is a member of the International Economic Development Council, the Southern Economic Development Council, the Georgia Economic Developers Association and the National Trust for Historic Preservation. Collins has two children, Fran and Samuel.  
 Sen. John Bulloch, who currently holds the SD 11, announced recently he would resign the seat. The special election will be held on January 8, 2012.
If you enjoyed this article, please consider sharing it!