Hillary Kills Cats and Other Morning Reads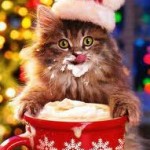 Apparently our President wants to blow-up small countries? Norquist is crazy, POTUS only wants to blow up the BIG ones…duh.
Hillary had a cat assassinated…yeah, right…next!
The US Treasury made a bundle off the AIG bailout. h/t to Billy for this one.
The National Counterterrorism Center just got new authority to pull more of your data, we're SO beyond Big Brother now.
Your Daily Calendar is being published…and it's awesome.
Golden Globe noms are out…and so are the snubs.
Enjoy and drink fast.
If you enjoyed this article, please consider sharing it!