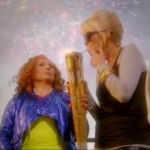 Ya know, I am happy for this guy. Sure, some hard feels still linger over 2004, but dude worked his whole career for this gig.
Cue clown car for a replacement. I think Gov. Patrick should ask Barney Frank to sit in while the special election is underway.
The NRA made no friends yesterday. Sweet mother of Mary, it's never a good day for your organization when these folks look saner than you do.
I don't usually read the National Review, but when I do it's this article.
Speaking of the fiscal driveway ( I refuse to use the "c' word) President didn't need to lecture us on egg nog and cookies.
Tiny baby Jesus is coming, are you ready?
NORAD tracks Santa, and has for the last 50 years. Hours of fun for the youngest technology savvy believers.
My Christmas gift to you-Tom & Lorenzo. Parts 1, 2 & 3.
If you enjoyed this article, please consider sharing it!