Gov Deal: Is He Really A Good Manager Of Your Money?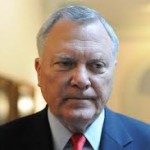 On the heels of creating a new state Agency to direct public tax dollars to charter schools, Governor Deal announced support for a yet another new agency aimed at helping re-train and assist Georgia Veterans for jobs. It sounds all good and noble right? Just one problem…We already have one.
Governor Deal's office is responsible for managing the Office of Workforce Development  which handles job training and re-training activities for the state. Governor Deal is responsible for appointing Board Members to this agency and its 20 boards regionalized across the state. To say that he doesn't know that a significant portion of their work is towards Veterans would be a lie. To proof, see the key services listed on their websites and their comprehensive plans listed on the local Workforce Boards' sites like the DeKalb County Workforce Investment Board which the Governor's office approves.
These plans are sent to the Governor's Office of Workforce Development as part of the state plan which the Governor approves and submits to Washington for funding. So why is the Governor trying to create a new agency at a cost of $10 Million with the help of Larry O'Neal in the State House?  Oh right, Rep. O'Neal happens to represent the district most likely to get the agency HQ. Got it.
On top of the questions raised above, Governor Deal announced a $185 Million cut to the state's economic development budget. This comes on the heels of a damaging report issued by Georgia State University's Fiscal Research Center which outlines the massive deficit Georgia is incurring in manufacturing and other skilled-labor jobs. The destruction of skilled-labor jobs is having ripple effects from loss of management jobs to the low-wage jobs that depended on these skilled-laborers such as child care, food service and others. One need only look at the empty hulks of the Doraville and Ford plants in Atlanta (as examples) to realize, and this is confirmed in the GSU Report, that the amount of jobs replaced by the meager openings of Porcshe, Kia and others will not overcome the massive devastation to our skilled-worker labor force primarily in manufacturing – the EXACT sector the Governors $185 Million dollar slash is aimed at killing.
Given these two examples above, and don't even tempt me on the stadium/tax question, tell me again how this Governor is supposed to be a good manager of our money? If this is what we have to look forward to for the foreseeable near future, what will Georgia's job market look like in 5 or even 10 years? Scary stuff.
If you enjoyed this article, please consider sharing it!