There Shall Be No More Cakes and Ale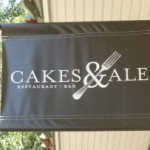 Ethics, schmethics,  we gots "Rules" now. Or not, or something. Lesigh.
Excellent choice of photo award goes to this blog!
So wrong, yet so entertaining.  Thanks to the  Joe.My.God's commenters I  can check in every couple hours just to see what the witty gays have to say. Before you roll your eyes, his 2012 blog saw about 23 million pageviews on just over 11,000 posts on which folks left over a million comments. Snap!
Dolley Madison would not have liked this.  She was famous for maneuvering opposition leaders into quiet corners in the White House and forcing them to be sociable to each other.
Did you read the one about the cray-cray Cobb Republican breakfast? If not, it's all still here. I'd have left it alone, but recently it has developed a half life here. Love the Nut Vote story!
Oh Mayor, please don't tease.
File under "Further Signs of the Coming Apocalypse" the Wall Street Journal did a Golden Globes fashion review. 
Photo courtesy of Decatur Restaurant Cakes & Ale.
If you enjoyed this article, please consider sharing it!