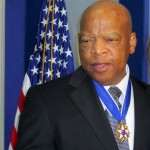 PUBLIC SERVICE ANNOUNCEMENT
Rep. John Lewis Congress in the Community Events
ATLANTA—Rep. John Lewis has been bringing the work of his congressional offices to constituents through a series of Congress in the Community Events.
Tues. Feb. 19
Forest Park Public Library
11:00 AM – 1:00 PM
696 Main Street, Forest Park

Each Congress in the Community event is an opportunity for 5th District residents to get advice or assistance with challenges they may have involving the federal government. They can also use this opportunity to communicate any concerns they have to knowledgeable staff in the Congressman's office who can assist them. A member of Rep. Lewis's staff will be on hand at the library to meet with constituents. No appointment is necessary. For more information call 404-659-0116. ###
If you enjoyed this article, please consider sharing it!