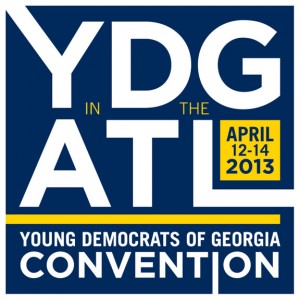 This year, the Young Democrats of Georgia will be hosting its Annual Convention on the campus of Emory University in Atlanta.  This year's event promises to be the best yet, with a schedule packed full of incredible events.
In order to put on an event like our Convention, we rely on many incredible sponsors to help take the cost burden off of our members.  Every year, we ask for Democrats in our community to sponsor as many Young Democrats as they can, so that we can provide scholarships to deserving Young Democrats across the state.  This year, Young Democrats of Georgia is thankful for the generosity of Commissioner RJ Hadley (who sponsored 7!!), Juliana Illari, Derek Brown, and Daniel Fullerton, who together have been able to provide sponsorships to 12 YDs.
Today, I am asking all of you for your help.  Will you help send some Young Democrats to this year's Convention?  We have outstanding scholarship requests from individuals from Columbus, Carrollton, and Thomasville, just to name a few.
If you would be willing to sponsor a Young Democrat (or two, or three….), please visit ActBlue to donate.  If you have any questions, you can contact the Convention Team at convention@georgiayds.org.
If you enjoyed this article, please consider sharing it!