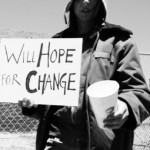 That was the answer to the question posed by the Atlanta Press Club last evening "What is the Future of the Democratic Party of Georgia". Our illustrious Chairman answered for all of us by saying the following:
On fundraising: "I'm in the nonprofit business. I'm not interested in banking as much money as I possibly can," the chairman said. Clearly, we know, we've all seen the disclosures-Andre keeps us well informed.
On pushing back against some atrocious GOP policies:  Berlon rejected this "Calling people names doesn't work for us,"  *Cough* unless they are hardworking volunteers, then he's totally fine with it.
On supporting Republicans: as we all have read previously DPG efforts went to help elect Republican Regina Quick to the House. Maybe he wants to help support the GOP Senate candidate in 2014!
He is "negotiating" with our Senate candidates… oh really.  What is he got to offer them exactly? Our bylaws prohibit backing anyone pre-primary so curious what such a public declaration gets us. Well I feel sorry for those poor saps. Oh wait.
To round things out, and because everyone isn't shocked speechless, he doubles down by blaming former Gov Roy Barnes.
Stunning.
Simply stunning.
Nothing to see here move along, join the Republicans for popcorn I understand they've been making it fresh for days now.
If you enjoyed this article, please consider sharing it!