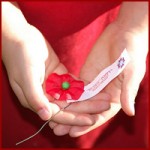 In Flanders Fields the poppies blow
Between the crosses row on row,
That mark our place; and in the sky
The larks, still bravely singing, fly
Scarce heard amid the guns below.
–Lieutenant Colonel John McCrae, MD (1872-1918)
Veteran and Georgia House Representative Scott Holcomb pens this:
Several months ago, I had the great honor of visiting Normandy. As I walked along Omaha Beach and looked at the cliffs at Pointe du Hoc, the only thought that ran through my mind was, "I don't know how they did it." The site of the D-Day invasion was a kill zone, yet those who fought that day kept moving forward and ultimately succeeded. They did so even when they knew they might die. And thousands were killed.

The spirit of service and sacrifice that has defined our service members for generations lives on today. Anyone who has served during wartime can attest to this. And it is right for us to honor those who died in service to our nation.

When you take a moment to honor the fallen on this Memorial Day, please also say a prayer for their families. For them, this holiday is a somber reminder of their loss.

May God Bless America, and those who protect her.
If you enjoyed this article, please consider sharing it!