Alice in Wonderland Open Thread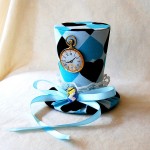 "Everything is funny, if you can laugh at it." (not sure how long this will last)
"If you drink much from a bottle marked 'poison' it is certain to disagree with you sooner or later."
"I know who I WAS when I got up this morning, but I think I must have been changed several times since then"
"She generally gave herself very good advice, (though she very seldom followed it)."
"And what is the use of a book," thought Alice, "without pictures or conversation?"
"For the snark was a boojum, you see."
"In another moment down went Alice after it, never once considering how in the world she was to get out again."
"I don't think…" then you shouldn't talk, said the Hatter." (below the flip)
Dear Members of the State Committee:

 As you know, I have submitted my resignation as the Chairman of the Democratic Party.  Nikema Williams will be taking over for me on Monday, June 10th.  I wanted to take the opportunity to thank all of you for the hard work that you put in while I was Chair.  We have an amazing opportunity coming up in 2014 and 2016.  We can win the US Senate Race and have a great shot at the Governor's office as well.  Please don't let up now.  Our time is coming. It's not a question of "if", it's a question of "when".

I decided to step down because I felt that the issues with my personal life and law practice would become a distraction at a time when we needed it least.  All I ever cared about was winning this state back for democrats. Even though most of the issues that were raised had nothing to do with my role as Chairman and most were brought up as a campaign issue when I was elected in 2011, it was apparent that the continued negativity was not going to stop. In fact I was told it would get worse.

Leaving the party is difficult but we have an orderly process for a change in power. The DPG is run and controlled by the State Committee. According to our Charter you are the highest authority in the Party.  I have known many of you for many years and appreciate all of the well wishes and calls of support. I have asked that my resignation be submitted to the entire State Committee for consideration at the next State Committee meeting. I came into office with a vote from all of you and that's the way I should go out.

 I wish you all well.  My health has improved but my blood pressure is still off the charts.  I'll be out for another week and hope to return to the practice of law very soon. In the meantime, you can all do me a favor.  Almost all of the press reports said that I had lost my license to practice.  That's simply not true. It was suspended administratively for about 3 weeks and there is no problem with it now.  That news alone has caused me to lose about 80% of my practice because people believe I don't have a license. Basically the firestorm that was started has cost me and my family dearly.

I have a suggestion.  In the future lets try to handle our disputes internally before we turn them into media circuses. This entire matter could have been handled privately if only we had the thought of having an intelligent internal discussion rather than a scorched earth policy of attacking our own.  We do it all the time. I hope that all of you are spared from ever having to go through that type of event. It not only hurts everyone involved but it also kills confidence in the party. I also suggest that you find a way to keep anything that is discussed from being immediately posted on the web-most of it anonymously. We are better than thatPlease remember that this is the Democratic Party of Georgia not the Democratic Party of Atlanta.  In order for us to succeed as a party our focus needs to be in the areas outside metro Atlanta.  We worked hard on that during my tenure and opened a full time office in Savannah and a satellite office in Augusta.  We also ran more than 100 races around the state and increased democratic performance well above our goals. Along the way we elected Mayors, Sheriffs and City Council members.  We know the "science" part of political science.  We just need to do it on a larger scale.

Please also remember that our job is to elect democrats.  We lost our focus years ago when the Party was run by our highest elected officials and was merely an offshoot of their campaign.  As we become more in play, the pressure will be great to return to that model and more and more people will have an interest in running the Party-in many cases those who may have a personal or political agenda and who have not been involved with the party before.  You're all smart people.  You know the difference. The Party belongs to the people-we are a ground up organization.

Finally, I leave you with this:

Our party truly represents the face of Georgia.  We are the party that cares about working people, a livable wage, family values, the poor, the ability to choose, equal rights for everyone, regardless of race, religion gender, ethnic background, sexual orientation or gender expression. We believe in quality education, the environment and the future direction of Georgia and the United States. In short, we believe that Georgia deserves better. As Democrats, we truly are our brother's keepers.  With these values, we know that we can't fail.  When democrats lead, Georgia prospers.

One of my proudest moments as Chair was being at the National Convention when the DNC voted on the Platform for equal rights for the LGBT community.

Let's not roll back on any of these issues. Let's embrace them. 

It was a great honor and privilege for me to serve at the Chairman of the Democratic Party of Georgia at this critical point in our history. Please stay in touch. 
Sincerely,


Mike Berlon
Chair
Democratic Party of Georgia
If you enjoyed this article, please consider sharing it!