Dear John, oops I mean Mike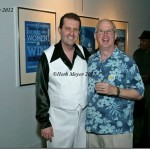 We need to break up. It's not you, it's us. No, really it is.
I know this comes at a difficult time for you what with your serious health and professional troubles, but it can't be avoided any longer. We stayed as long as we could, through thick and thin, but this week we  realized that we fundamentally want different things.  Perhaps we didn't know who you really were and you've stayed the same, and we're the ones who've changed.
We've been together a couple years now and our problems have been mounting up.
You want to travel to exotic places and we want to stay home work in our garden tending to our seed corn.
You want to hold splashy media events and theme parties, we think it's wasteful and silly.
You want entertain  strangers, and we'd rather have a quiet beer with our friends.
You want to spend our money like a drunken sailor on shore leave, we'd rather save our money and pay our bills.
You've been ignoring your friends and listening to some very unusual people.
So, Mike you see, this can't work we've grown apart.
Take care of yourself and just as soon as you feel better, drop us a line.
Let's try to be friends and remember pursuing us again in the public forum would be unseemly.
If you enjoyed this article, please consider sharing it!