Rep. Lewis is a Hit at Comic-Con, naturally!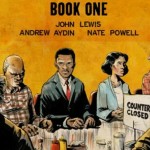 I'm so thrilled at all the coverage the Congressman and my friend Andrew Aydin are getting over their collaboration on the first of three graphic novels about the Congressman's life.
Book One is March, available at retailers on August 13th.  Volume two is slotted for release in 2014, with volume three set to roll out in 2015.
This past weekend they were the stars at San Diego Comic Con.
Ahead of Lewis' appearance at Comic-Con had this to say: "His commitment to justice and nonviolence has taken him from an Alabama sharecropper's farm to the halls of Congress, from a segregated schoolroom to the 1963 March on Washington, and from receiving beatings from state troopers to receiving the Medal of Freedom from the first African American president. Now, remembering how a 1950s comic book helped spread the philosophy and tools of nonviolent resistance among his generation of activists, Congressman Lewis has a new project to do the same for today's youth."

Top Shelf Productions pitchman Leigh Walton, charged with shepherding Lewis' life story from fevered dream to fully illustrated reality, had barely launched his intro before the crowd erupted anew.

"John Lewis is an American icon …" Walton led off.

"Yeah!" blurted an enthusiastic attendee, which spurred a standing ovation and thunderous applause.

That energy never diminished.

Lewis alternately charmed the audience with quirky tales of his sharecropping youth and horrified them with stomach-turning accounts of the evil bigots do. But he emphasized the ultimate goal of his experience has always been "to create a society where we can lay down the burden of race and move on."
The graphic novel medium has drawn significant attention, I spit coffee all over my laptop when I saw Sen. Patrick Leahy holding a copy of March at a Senate Committee meeting. You don't often seen that on CSPAN. Little known fact, the Senator is a huge comics fan, and yes that is really him in those Batman films. Come on, you didn't know he had an IMDB entry did ya!
Congressman Lewis will be the keynote speaker at the Decatur Book Festival on Aug. 30.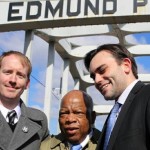 Pictured here, Artist Nate Powell and co-authors, Rep. Lewis and Andrew Aydin.
If you enjoyed this article, please consider sharing it!