The Backstreet Boys and other 90's memes are back.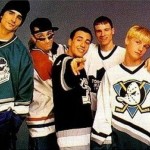 It's very hard to type and clutch your pearls at the same time, but I'll give it a try.
Our long wait is over, she' s in.
I opened my email yesterday from about 30 different people to find this story  and then see it was blasted all over Facebook. Most people seem really happy about this, how nice. Hours and hours later I'm continuing to be pestered into "liking" a limp FB page, signing up for her campaign spam and following her on Twatter.
Here's the thing, I can't figure out why this candidate above others is somehow deserving of all this attention. Yes I understand she's run an amazing volunteer service organization, and she's the daughter of one of Georgia's more prominent US Senators, but frankly that's where it ends people.
Perhaps I could have let it go until I got an almost predictably timed  fundraising request from a notorious upstart using both Nunn and Cleland in the subject line. Whomp there it is! I made the mistake of opening it only to find out all they want is $8.00, eye-fucking-roll. Eight dollars!
Clearly I have a bad attitude. So upon closer look at the "information" I've been assaulted with, here are my take aways:
I basically have no information.
The website looks like the DSCC brightest intern took a stab at a graphic id and came up with a blue field and a GIANT WHITE state of Georgia. Do not get me started on how this offends me.  Do.Not. Once I shook that eye sore off, I went looking for anything substantial, yeah, didn't find a single thing except it looks like she's using ActBlue for contributions and appears to not have NGP. 1999 is calling, it wants it's campaign back. Cue the 2013 Backstreet Boys.
So back to Galloway's article I go in search of anything relevant to the problems and her solutions for Georgians. Again, I come up completely empty handed.
Instead we are served these crumbs.
Beginning with slamming the folks you want to work with some day.
Our opportunity is to define ourselves," she said. "I'm going to talk a lot about the deficit. Neither side of the equation is really tackling that. I think people are really tired of the mudslinging and the silliness of this."
Wait there is "mudslinging" in politics, say it ain't so. The deficit, this is what you want to run on? YAWN, really? As a Democrat in Georgia?
"Part of what I bring to the table, and what Georgians are eager for, is coming together. They're tired of the partisanship, tired of what feels like political infighting versus actually trying to accomplish things," Nunn said. "I've had the chance to work with President George H.W. Bush. I sat on a council on volunteerism for George W. Bush. I believe in showing respect for our presidents across party lines. I think we do a disservice when we're not willing to do that."
Oh no… not the "coming together" kumbaya claptrap. While she might believe in showing respect for all the Presidents, don't expect that from the GA GOP primary field. President Obama is likely to burned in effigy next spring, along with all library books if Paul Broun has anything to say about it. Speaking of showing respect, how about you not dis the current one's signature legislative accomplishment the Affordable Health Care Act?
On gay marriage: Nunn said she agreed with the U.S. Supreme Court decision that left the definition of marriage to the individual states. "I also believe that marriage is not only a legal construct, but a sacrament, and every religious institution has to be able to define it for themselves," she said.

But on a personal level, Nunn said she favors marriage equality.
Score one for the gay vote and big gay money. Except if she's not planning on changing any Federal laws to include all couples, her comments are totally useless. Pandering, but useless to a community without healthcare, penalized for their partner dying and the other 1100 laws currently impacting same sex couples.
For months the rumors of Michelle Nunn's US Senate campaign have been on the lips and keyboards of a half dozen different friends of mine. In some cases we were bullied into agreeing to support her with literally no information about her, her campaign, her issues or her ability to run a statewide race. I know shouldn't pee in the punch bowl, but I really can't help it.
I still have those questions, lots of questions.
Very few answers.
If you enjoyed this article, please consider sharing it!