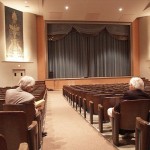 What:  Special Election for the DPG Chairperson, who will be completing the unexpired term of the previous chair.
When: Saturday August 31, 2013
Time: Check in at noon, election proceedings begin at 1:00 pm. Yes 1:00-not 1:15 or 1:30… One O'clock people.
Location: Newnan Georgia- historic Wadsworth Auditorium located at 25 Jefferson Street, Newnan, GA 30263. Parking is nearby.
Your guess is as good as mine the final number of folks who will qualify to run, that due date isn't till July 31st.  The street committee is reporting that some folks are having a tough time getting their signatures together and others are embroiled in lawsuits with Tea Party folks.
So far no one is planning on bringing  jello shots. The auditorium looks awfully nice, so lets leave those for a different venue and election.
Update 2:
Qualified Candidates Standing for Election on August 31st. No "floor" nominations are permitted.
Candidates: Please be prepared promptly at 1:00 PM with your nominating & seconding individuals.
PLEASE NOTE: Those making nominating and seconding speeches MUST BE STATE COMMITTEE MEMBERS.  No exceptions will be permitted.
Nominating Speeches are limited to 2 minutes.
Seconding Speeches are limited to 1 minute.
Candidate Speeches are limited to 5 minutes.
Each candidate will be permitted two (2) State Committee Members to be present to observe the counting process.
State Committee Members
Please arrive in time to be checked in and seated by 1:00 PM, promptly.  You may not vote before all candidates have been nominated and have addressed the body.  We encourage all qualified voters to remain on site until the election has been completed.
Visitors/Visitors
Observers/visitors are welcome and will be provided a designated seating area.  Observers/visitors should remain in their designated area during speeches and voting.
 Wadsworth Auditorium is located in the Newnan Municipal Building at 25 Jefferson Street between Wesley & Lee Streets in downtown Newnan.
Free parking is available on side streets and in the public lot on Madison Street just steps from the auditorium.
Handicap Access & Parking
Vehicles with Handicap tags may park in the Police parking lot in the designated spaces and other spaces as needed.  The Handicap ramp and entrance are located on the same side of the building as the parking lot.
Refreshments
Soft drinks, bottled water, and light snacks will be provided.  There are a number of nearby restaurants.
If you enjoyed this article, please consider sharing it!