Ripe Tomatoes and Other Delicious Things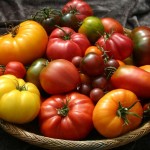 As we head into the Labor Day week, the official end of summer I give you these items to ponder.
The 50th Anniversary of the March on Washington for Jobs and Freedom brought us a news/facebook/twitter deluge. I've picked out a few items you may have missed.
Ten Things you probably didn't know about the original 1963 March. More on that first March here.
Then as now, men took the spotlight, women did the work. Fifty years later that sh*t wasn't going to fly.
The original 1963 speech that Congressman Lewis wrote, as you may know, he wasn't able to give. Instead he was "encouraged" to change it.  Text and edits, here. Fifty years later speakers only got a handful of minutes to speak, as always Cong. Lewis makes the very most of what he was given. Here's what he said yesterday.
Fifty years seems a little long to wait to give Bayard a Medal. More on this amazing man here and here. You can watch the film Brother Outsider on Netflix.
If these pictures don't make you say, awwwwww, then something just bad wrong with you.
Once again I will miss this, thanks Georgia Democrats. Those of you lucky enough to not be going to Newnan, please note the new parade route.
I'm not going to throw any shade on this.
If you enjoyed this article, please consider sharing it!