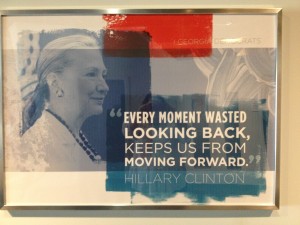 There is going to be a review of the ballots.  It is permitted and it will occur.
Let's clear up a few things.
The signed ballots did not REPLACE a roll-call vote.  Nor was it a departure from protocol.  It is our version of a roll-call vote.  Due to time and fear of voter intimidation, we have used this method for at least the last decade during which I have been participating in Democratic Party of Georgia elections.  It wasn't a secret that the election would be held this way.  The initial announcement of the Special Election clearly outlined the voting process.
A simple review of the ballots is not a step towards challenging the vote.   Our elections are public and results are too.  There will be no threats of hit lists, smoke-filled room negotiations, or challenges to a settled election.
The election is over.  We voted by acclamation to accept Dubose Porter as our new chair.  That isn't going to change by a simple review of the ballots.
I am a member of the four-person Election Committee that oversaw the 8/31 election.  We had observers selected by the three candidates on hand in the counting rooms.  We compared each ballot to the registration rosters.  We had a clear process to count and tabulate the results.  We counted each ballot EIGHT TIMES. The results were clear.  There were fewer than ten ballots in question.  Several were counted, several were not.  All observers and Election Committee members agreed with the decisions. I am 100% confident that the results are accurate and legitimate.
How about this – if you are tempted to continue to draw this out – instead, talk to a neighbor, co-worker, brother, sister, mother, or friend about why you are  a Democrat.  Or, take a look at your finances and determine how much you can give to the party or a candidate to help move us….
FORWARD!
If you enjoyed this article, please consider sharing it!