Funny. Stupid. Sad. Awesome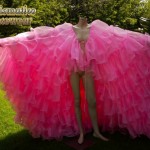 Open Thread Wednesday. I'm giving you a few things to discuss, most aren't about the debt or Georgia but meh, I think I just wanted to use the fabulous picture of my Halloween Costume.
No, really.
By the end of the day we will find out out if Michigan will be the 14 state to allow same sex couples to marry, we will or will not have a Shut Down deal, will Rush Limbaugh's head explode for reals.
Funny
The Talking Dog, always
The Houston Chronicle has a few regrets
Stupid
Sarah Palin, always
Sarah Palin, forever
Sad 
The country appears to have gotten punk'd by Sen. Ted Cruz
Yawn, this  is stupid and sad
Awesome
NC Buncombe County Register of Deeds Drew Reisinger for his decency to Brenda Clark and Carol McCrory. Tissue warning.
The Pansy Patrol!
If you enjoyed this article, please consider sharing it!