"…should a need or emergency arise."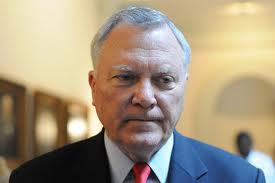 Just six words.  Six words at the end of a press release from Georgia Governor Nathan Deal.  But, these six words reveal just how out of touch and mean-spirited our Georgia leadership has become.  Today Governor Deal announced a 3 part plan intended to help rural communities facing closing (and closed) hospitals.   The first piece of his plan will loosen some rules and regulations  to allow hospitals to offer fewer services but remain open.  While certainly not the best solution, keeping emergency rooms and some other services available is a good thing.  Second, is the Rural Hospitals Stabilization Committee (oh, if only it were the Blue Ribbon Rural Hospitals Stabilization Committee – I love a Blue Ribbon Committee!).
Lastly, The Governor announced that:
To increase the flow of communication between hospitals and the state, Deal is designating an employee within the Department of Community Health to serve as a point person for rural hospitals.
Later in the press release we learn:  "I am confident that these proposals will increase communication between stakeholders and ensure that every Georgian is reasonably close to a health care provider should a need or emergency arise."
And here is where I got really mad.  "should a need or emergency arise."  Seriously?  The needs are already there.  Every community needs access to ongoing health care.  Healthcare is not the emergency room.  Healthcare is regular checkups; healthy children visits; immunizations; care for chronic illnesses.  There is no question that needs will arise.  The Governor of any state should understand that consistent and regular preventive treatment is an important the key to a healthy and productive community.
While not the panacea that we'd like it to be, we do have an option that would greatly improve health outcomes and access in rural communities. The Governor could just accept the 100% Federal (thru 2016, 90% after) funding for Medicaid Expansion.
If you enjoyed this article, please consider sharing it!