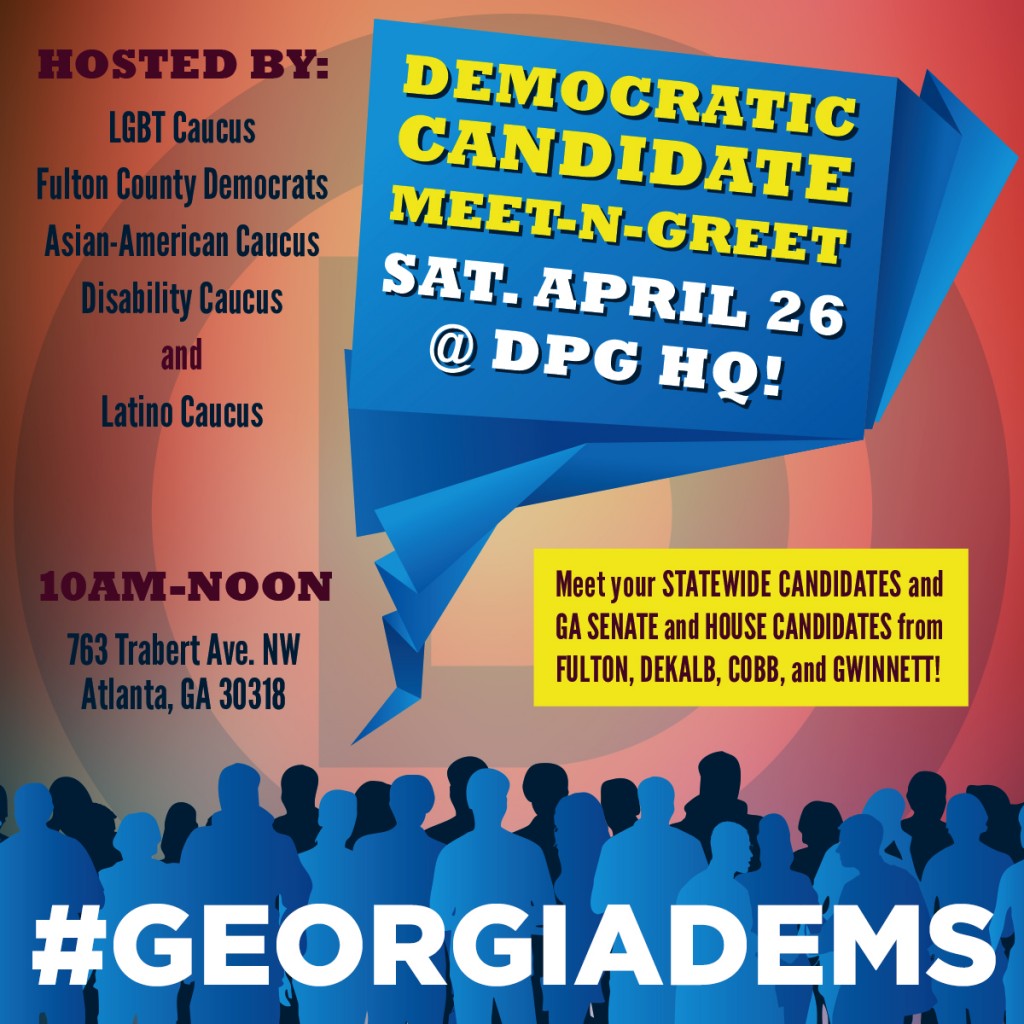 Dear Candidates, before you whine and cry you didn't know about this, I suggest to you check your email again. I promise you we've been trying to get an answer from you. In fact, you should have gotten this email today.
We haven't heard from you, as a reminder:

A Democratic Candidate Meet-N-Greet hosted by the LGBT Caucus of the Democratic Party of Georgia, with additional sponsors of The Fulton County Democratic Party, the Asian-American Caucus, the Disability Caucus, and the Latino Caucus. The Meet-N-Greet will run from 10 AM to Noon and be held at the DPG Headquarters on Trabert Ave. Invitations are being extended to all Democratic State-Wide candidates, along with all State Senate and House candidates in Fulton, Dekalb, Cobb, and Gwinnett counties. Currently we have over 30 candidates registered. We hope you will choose to participate.

Note we are not endorsing candidates. All candidates for an office will be invited to participate.

A couple of notes on the event:
The doors will be open for candidates to set-up starting at 9:15,
Each candidate will have approximately four feet of table space to use for literature, volunteer sign-up, and other materials. Rally signs are fine and can be hung prior to opening. No space is currently planned for banners, however, if you bring them, we can evaluate on Saturday.
The selling of t-shirts or collecting of money is allowed, however, you are responsible for securing any funds.
There is no fee to attend. All expenses are absorbed by the sponsors.
We do understand it is a busy, spring Saturday. Candidates do not need to stay the entire two hours (though we would love to have you). A surrogate can remain to continue to staff your table area.
Candidates are not required to use a table and can mingle if they find that is more effective for conversation.

Bottom line: We want it to be as easy as possible for you.

Thanks much and we look forward to seeing you on April 26th.

For additional information, please contact Jim Tafinger, LGBT Caucus Chairperson, Democratic Party of Georgia at lgbtchair@georgiademocrat.org
If you enjoyed this article, please consider sharing it!