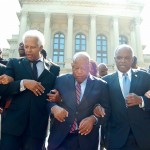 In searching for something, anything, to write to help make some sense of this national nightmare, I found the words of our own John Lewis to be particularly uplifting.
I know many of you are feeling hurt, angry, frustrated and so much more at the result of the election. Just know that's okay and that you're not alone.

It's clear that the divisions in our country were deeper than any of us thought.

But we must not give up. It's not time to run for the hills. Today is the day that we pick ourselves up off the floor and get back to work.

It's up to us now, not as Democrats or Republicans — but as Americans — to begin the process of healing.

We cannot be complacent, but we cannot be vengeful. We must speak truth to power and fiercely defend those who are the most vulnerable.

No one can take away our right to hurt or our right to heal. We all love this country and we must all be responsible as we work to forge a better future.

It's not going to be easy. We will have good and bad days moving forward, but we will always have tomorrow. The sun will always shine brightly on the United States of America.

Thank you all and God bless America,

John Lewis
Save
If you enjoyed this article, please consider sharing it!