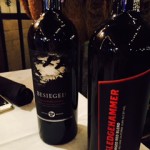 Knock.Knock. Hello, is anyone out there?
In the wake of the Great Peach Pundit Blogger Breakup I felt the timing might be right to dust off my password and see if this thing still works.
It appears it does.
Yay.
Just when you thought blogging had gotten dull, leave it to the son of master craftsman Daedalus, the creator of the Labyrinth to shake us all up. During the last five days I have watched the unraveling of one of the most informative, mature and active Georgia Political blogs, Peach Pundit. Late last week we got a tip something was amiss, then Icarus wrote this, which lead to speculation on Facebook, then a long series of posts, like this and this.   It's been a riveting few days, filled with prominent members of the Georgia political blogging community going public regarding the split saying essentially "it's not you, it's me, really".
Okay, riiiiiight.
In a nutshell it looks like Peach Pundits' two daddie's got a quickie Reno divorce, but just one of them got to keep all the cool friends. This divorce isn't going to land the next cover of The National Enquirer or The Star, because sweet baby jesus on a breadstick no one wants to see Erick's head photo shopped onto a Kardashian's body.  That said, it's still big news around this neck of the woods. Heck even I came to rely on those handy 7:30 am emails from Mike filled with wonk and a wee bit of snark.
As many others have said, and I agree, PP came a long way in tone and quality under the leadership of Icarus Pundit.  The new venture, Georgia Pol is very exciting. I wish Charlie well as Publisher and look forward to more of the smart writing and the ongoing discussions about policy. It was no surprise me that eventually just writing about policy wasn't going to be good enough, so when he hung out his Policy Best shingle it was a logical step. As many others have remarked, many of us from very different points of view have found common ground with Charlie. Unlikely as it might seem, Charlie and I too have become friends, and yes, it involved wine, quite a lot of it.
While listening to GriftDrift last Friday, it was hard to not reflect on my early days of Blogging. He called it the Wild West, but I prefer to think of us as Pirates or Privateers, you know who you are- paid to publish some drivel of a press release.
Prior to 2002-2003 in order to be politically active you had to put pants on and actually leave your house. Once outside your choices of activities weren't stellar.  You could attend a Meet-up (not to be confused with a "Do-Up") or you might go to a local political party or candidates HQ to volunteer or for a truly terrifying experience attend a county parties monthly breakfast or business meeting.
Shudder.

Continue reading »